One GNS3 server, multiple clients
note
This documentation is only for GNS3 2.0 and later
Since GNS3 2.0 you can use a central GNS3 Server and multiple GNS3 clients. The projects and devices templates will be share and synchronize with all users. All changes are real time if you put a node in a project other user will see it immediately. Your appliances images will be uploaded via the GUI and stored on the remote server.
caution
This is an advanced usage. We recommend that the administrator which setup this installation try before with a local installation.
caution
There is no user isolation, all users can view all projects and modify them
Setup the Server​
First you need to install the GNS3 server.
Two options:
If you use the GNS3 VM for ESXi it's your remote server, you don't need a remote server and the GNS3 VM.
What is the difference with a remote GNS3 VM?​
When you use a remote GNS3 VM you have a GNS3 server running on your local machines and all the settings are stored on the local machine. Here, the settings are shared on stored on the remote server.
Setup your Clients​
If you want to use a local GNS3 installation and a remote installation you can use the settings profiles. At startup in the setup wizard choose Run appliances on a remote server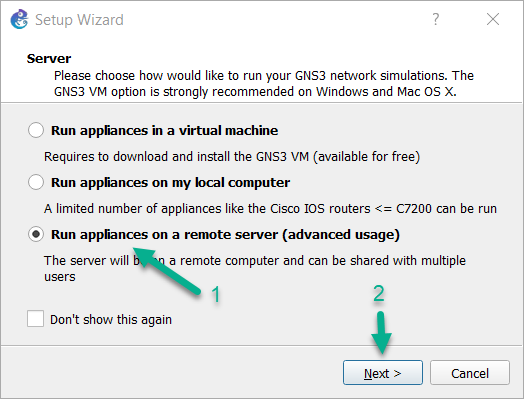 And put the server settings: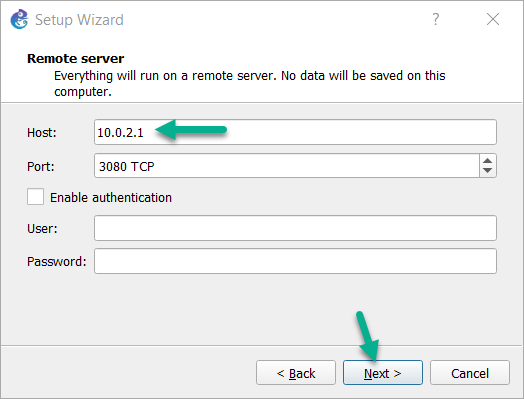 Click Finish in the next window, to complete the setup: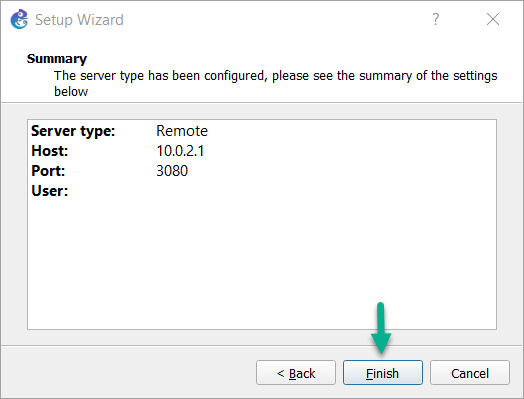 That's all!
note
You probably don't need to configure the GNS3 VM or an additional remote server. If you need to use the GNS3 VM you should think about using Linux . Additional servers are required only if you need more compute power.